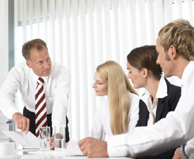 If you are ready to brush the dust off your YP ad campaign call us and see the difference for yourself. We work for YOU, not the phone company.

Our approach is simple, we design cost effective, trackable, Yellow Pages plans to eliminate the waste of stretching your ad dollars to deliver the results and grow YOUR business NOT the phone company's.

CALL US TODAY!
1-877-638-7494
Mark ext. 221
    Why Clients Hire & Stay With Us

Local Advertisers


Now you can have access to experts who will help you contain costs, upgrade your artwork improve results and provide unbiased advice to grow your business.

We work WITH you to review the details of where and how you advertise in the Yellow Pages – whether it's in the printed directory or on-line YP services. We do not sell you a "book" that provides generic tips on the do's or don'ts of Yellow Pages advertising – or base our fees on a percent of what we can save you. We look at all
YOUR ads and provide recommendations on where to eliminate overspending and to find new opportunities to grow your business, all for a very affordable one time fee.

Finally, our award winning Yellow Pages ad designs will make your ads outperform the competition.

We offer help with:


How much of your ad budget should you spend on Yellow Pages.


Which books to advertise in within your market
and why.


What size ads to run to get the best return
per dollar.


Professional artwork design services.


We track all the calls your ads generate.


Solving the mystery of On-Line Yellow Pages.