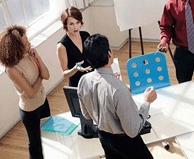 Finally, professional Yellow Pages advice and ad management with one goal in mind:
YOUR COMPANY's SUCCESS!!!
Whether you are looking to increase or decrease your Yellow Pages budget, solve the mystery of On-Line YP or just find out what your annual investment is producing, Yellow Pages Resource is here to optimize your buy.
If you do business in 1 market or
all 50 states and Canada, Yellow Pages Resource has a solution
that will improve your Directory Advertising ROI.
CALL US TODAY!
1-877-638-7494
Mark ext. 221